With the new Chef Fresh cooking cream, our MyLove-MyLife family continues to grow and our first climate neutral product arrived in the market. Our innovative all-rounder for vegan cuisine perfectly complements not only our range, but also your dishes.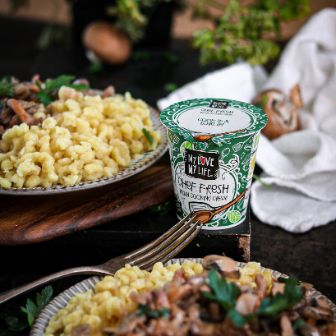 Tasty and versatile
Our organic vegan coconut-based cooking cream adds a fresh, creamy note to any dish and can be incorporated into hot, warm or cold dishes. Similar to a classic crème fraîche, this plant-based alternative is versatile and creative. It can be used for cooking or baking and rounds off sweet treats just as perfectly as savory dishes. Chef Fresh cooking cream is ideally suited for refining soups, creams, sauces, casseroles, pies, desserts and much more.
Curious? Here you can find the Chef Fresh cooking cream ...
In Germany you can get our cooking cream
at your local Denns organic market,
at Ebl Naturkost and
in many small organic stores - it's worth asking for it :-)
In Austria you can find our cooking cream
in your Denns organic market,
at gurkerl.at and
in many small organic stores - it's worth asking for it :-)
In Italy you can get our cooking cream
In Slovenia you can find our cooking cream
at Spar ... coming soon :-)