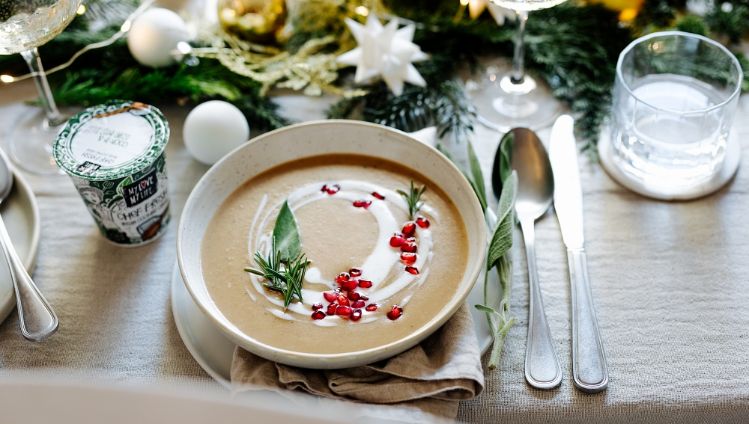 Recipes
Creamy chestnut soup with herbs and pomegranate seeds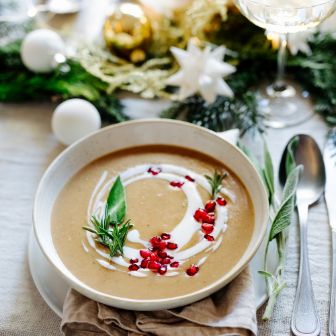 Ingredients
Preparation time: 45 min. working time
Difficulty: easy
Ingredients for 4 servings:
1 small onion
1 clove of garlic
1 tablespoon vegan butter
2 tablespoons vegetable oil
400 g chestnuts, pre-cooked
200 g potatoes, finely diced
50 ml white wine
1 lt. vegetable soup
100 ml MyLove-MyLife almond drink
½ tsp rosemary, finely chopped
½ tsp thyme, rubbed
½ tsp marjoram, rubbed
1 orange, juice and peel of it
Salt
Pepper
Nutmeg
Additional:
3 tablespoons MyLove-MyLife cooking cream
1 tablespoon MyLove-MyLife almond drink
½ tsp fresh ginger, finely grated
Salt
Pepper
4 tbsp. pomegranate seeds
Fresh herbs to taste
Preparation
finely dice the onion and garlic. In a large saucepan, sauté with butter and oil until translucent.
Add chestnuts and potatoes and fry lightly. Deglaze with white wine and pour in vegetable soup.
Let simmer for half an hour at medium heat, then puree finely with a hand blender.
Stir in almond drink and refine with herbs, orange juice and finely grated peel. Season to taste with salt, pepper and nutmeg.
Mix the cooking cream with the almond drink and ginger. Season to taste with salt and pepper.
Arrange soup, decorate with white cooking cream and top with pomegranate seeds and fresh herbs.