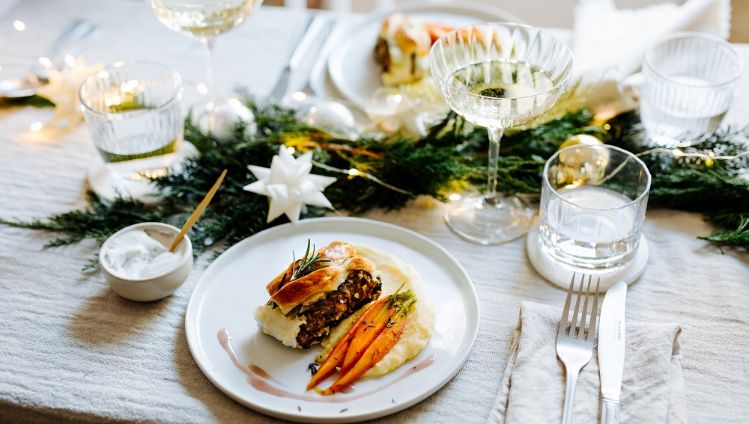 Recipes
Lentils roast in puff pastry, mashed potatoes and glazed carrots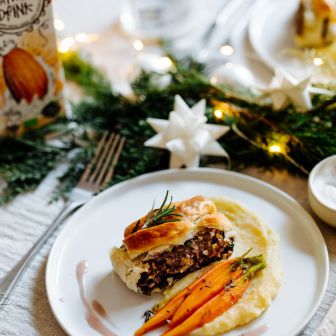 Ingredients
Preparation time: 80-90 min. working time, 40 min. baking time
Difficulty: medium
Ingredients for 4 servings Roast:
200 g lentils (red and brown)
1 small onion, finely diced
1 clove of garlic, finely diced
1 tablespoon vegan butter
1 tbsp vegetable oil
100 g zucchini, grated
50 g walnuts, coarsely chopped
2 tbsp. soy sauce
3 tbsp. linseed, coarsely ground
50 g flour (e.g. chickpea flour)
1 tsp. paprika powder
½ tsp salt
½ tsp. pepper
1 pkg. vegan puff pastry
2-3 tbsp. MyLove-MyLife almond drink
Additional:
250 g spinach leaves
1 clove of garlic, finely diced
1 tablespoon vegan butter
Salt, pepper
As well as:
250 g mushrooms and or herb mushrooms, mixed
1 tablespoon vegan butter
1 tablespoon lemon juice
salt, pepper
Mashed potatoes:
1 kg floury potatoes, peeled
3 tbsp vegan butter
2 tbsp vegetable oil
1 clove of garlic, finely grated
150 ml MyLove-MyLife almond drink
Salt
Pepper
Nutmeg
Glazed carrots:
500 g carrots with greens
2 tablespoons vegan butter
1 tbsp sugar
1 tsp marjoram, rubbed
1 tsp. salt
1 tsp. pepper
120 ml vegetable soup
Sauce:
100 ml vegetable soup
50 ml red wine
1 tbsp potato starch
1 tsp Dijon mustard
Dip:
125 g MyLove-MyLife cooking cream
3 tbsp MyLove-MyLife almond milk
1 tbsp olive oil
1 tbsp lemon juice
2 tbsp parsley, coarsely chopped
Salt
Pepper
Preparation
Roast:
Cook lentils in a pot with enough water until soft but still firm to the bite.
Sauté onion and garlic in a pan with butter and oil until translucent.
Add zucchini and walnuts and sauté for a few minutes over medium heat. Deglaze with soy sauce and transfer to a bowl. Mix in the flax seeds, flour and spices. Finally, add the cooked and strained lentils and set aside.
Sauté spinach with garlic and butter in a pan over medium heat. Season with salt and pepper and set aside.
Roughly chop mushrooms and sauté in a pan with butter. Season with lemon juice, salt and pepper.
Unroll puff pastry on a baking sheet covered with baking paper. Preheat the oven to 180 degrees top and bottom heat.
Now distribute the well squeezed spinach in the middle of the dough with a little distance to the edge. Then place the mushrooms on top.
Place the lentil mixture on top and press down firmly so that the filling remains compact.
Now use a sharp knife to cut diagonal longitudinal strips about 2cm wide. Fold these strips alternately over the filling. Close well at the ends and fold in.
brush with milk and bake on medium rack for about 30-40 minutes until golden brown.
Mashed potatoes:
Dice potatoes and cook in a pot of salted water until tender.
While still hot, press through a potato ricer into a pot. (Alternatively, mash with a potato masher).
Stir in butter, oil and garlic over low heat. Pour in almond drink and blend to a creamy puree using a blender.
Season well with salt, pepper and nutmeg. Keep warm until ready to serve.
Glazed carrots:
Peel carrots, cut in half or quarters. Make sure a small piece of the green remains on.
Heat butter with sugar, marjoram, salt and pepper in a pot. Sauté the carrots in it, turning. Pour in vegetable soup and reduce over low heat until liquid has evaporated and vegetables are glossy. Keep warm until ready to serve.
Sauce:
Heat the vegetable soup with red wine.
Put a good ladle in a bowl, stir in starch and mustard.
Stirring constantly with a whisk, add the mixture to the liquid and simmer for a few minutes until it thickens. Add salt and pepper to taste.
Strain through a sieve into a small saucepan and keep warm until ready to serve.
Dip:
For the dip, whisk together the ingredients and season with salt and pepper to taste. Arrange in a bowl and serve with the main dish.